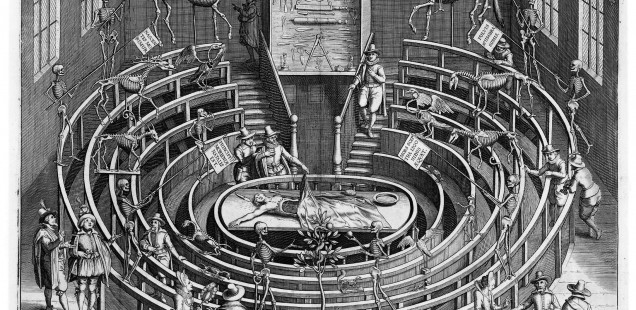 Studies abroad 1660-64
By Sebastian Olden-Jørgensen
When the siege was lifted Niels Steensen went abroad to study in the Netherlands 1660-64.  Niels Steensen's skill at dissecting, his anatomical observations, publications and scientific debate quickly earned him a name in the world of science. He particularly focused his studies on the glands and vessels of the eyes and mouth. The parotid gland, ductus parotideus, which he was the first to identify, is also named ductus stenonis after him. Niels Steensen also studied the anatomy of muscles and concluded that the heart was nothing more than a muscle responsible for pumping blood around in the body. This conclusion went against the dominant  scientific discourse of Steensen's day, Cartesianismen, but the muscle fibers of the heart were so plain to see that this discovery gave Steensen a healthy skepticism for the ambitious claims of contemporary fashionable philosophy (Cartesianism).
During these years abroad he was in regular correspondence with his old teacher, Thomas Bartholin, who tried to pave the way for Steensen to succeed him as professor of anatomy, but in vain. The position went to a Steensen's childhood friend, Jacob Henrik Paulli, who was better connected: his father was the king's physician.
In the Fall of 1663, Niels Steensen's stepfather, Johan Stichmand, died and Steensen returned home to Copenhagen in the Spring of 1664 and made another attempt at getting a position at the university. To that end he performed a series of anatomical demonstrations and published a summary of his research on glands, vessels, and muscles, dedicating it to king Frederick III. This attempt failed, and after the death of his mother in the summer of 1664, there was nothing more to keep Niels Steensen in Denmark. An inheritance from his stepfather made it possible for him to go abroad again.